Our guide to the best Halloween costumes: Part 1
So the big question this Halloween is 'What are you dressing up as?' The internet is full of ideas, and we mean that. People looking unusual is pretty much the bread and butter of the internet. This will be a three-part piece featuring the best, the funniest and the strangest costumes.
Some costumes are available to buy, but you'll find that originality is key with the best of show. So get your fabric glue, empty washing up liquid bottles and toilet rolls ready. Be sure to have adult supervision when using a sharp scissors, and remember to iron on the reverse AFTER removing it from your person.
1: Ghost and boo badge
To subtly add ghoulish humour to your ensemble, pin on this felted badge. (pic above via EeeBeeDee)
2: Trojan Condom Wrapper
It may not make you a hit with the ladies, but it's definitely an ice breaker! (via Buy.com)
3: Freudian slip
One for all the psychology students out there (via Neatorama)
4: Plastic army man
Proof that with a little spray paint and green duct tape, an epic costume can result. (via Ffffound)
5: Shark hat
No time to get changed before heading out to that Halloween party? Simply throw on this fleece hat (via FoolishGadgets)
6: Bjork swan dress
We love Bjork here, we really do. Ever since she explained to us how TVs work we've been fascinated. Bjork wasn't in fancy dress when she wore this swan dress, but unless you are an Icelandic Queen, then Halloween is the only time you can pull it off. (via Frankiesteinz)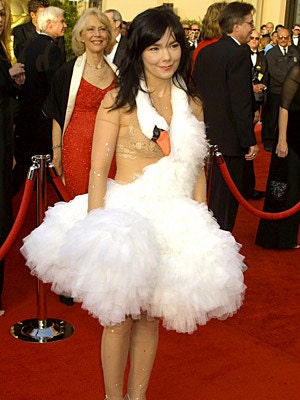 7: Wonder Woman
A halloween classic, but this time in latex. Halloween is probably the only time of the year where you could wear this out without getting arrested, and even then your probably pushing it. (via Nimues Latex)
8: Transformers costume
This one from 2009 still stands the test of time as the most well engineered costume of all time. Perhaps difficult to recreate at home without a degree in transformatronics.
9: Lecherous wolf
Remember the wolf from the Tex Avery cartoons? This costume gives you a license to whistle and act the lecherous wolf all night. Word to the wise: he never gets the girl in the end though. (via Archie McPhee)